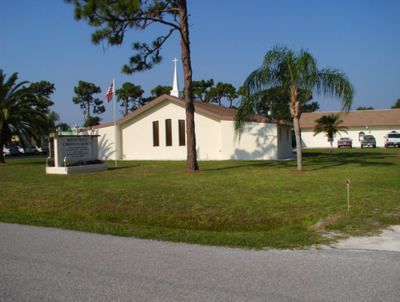 Greetings to you and your family with a friendly word of love from our savior Jesus Christ.
Our sincere desire is to make you feel welcome and to say hi and welcome to Venice if you are new to the area and to also say you are welcome at South Venice Christian Church. If you need help with any moving arrangements and getting settled in and finding doctors, dentists, stores, and hopefully a new family of believers to worship with.
This brochure is being sent to welcome you to our family of believers and to introduce ourselves to you. If you have already found a family to worship with, we still would be happy to help you in any way we can.
Our congregation is a conservative non-denominational group of men and women who love our Lord and savior Christ Jesus. Our service's are traditional in the sense that we sing the old time hymns of faith and our worship usually lasts around an hour. Communion every Sunday is our centerpiece of worship to celebrate the death, burial, and resurrection as oft as we can. All are invited to the table that are called Christians. Please Stop by any Sunday and Worship with us.
We proclaim a warm and friendly atmosphere at South Venice Christian. We will extend the right hand of fellowship for all who come here.
If you are not currently attending a church in our community, or if you are looking for a church family to worship with, we invite you to visit and worship with us.
We wish to be an encouragement to all who are in need of a spiritual lift, an inspiration to those who need hope, a light to those who may be confused, and above all to share Jesus as the wonderful and divine Son of God with all who will hear.
The goal of our congregation is to be a Christ-centered fellowship of believers living in love, grounded in the word of God, and reaching people of all ages with his life changing message. Our desire is to help everyone find Christ and grow in Him as His disciples, by providing instruction from God's word and maintaining a warm fellowship that overflows with gratitude to God.
The Lord's Supper, which is called communion, is offered every Sunday and is open to all believers who wish to participate and remember our Lord's sacrifice in this manner.
Our congregation is autonomous, not under the oversight of any outside group. Our church government is congregational in structure, with Elders appointed to oversee the spiritual needs of the members and deacons to oversee other affairs of the local church body.
Believing that denominations divide the body of Christ, we profess to be "Christians only but not the only Christians." We strive to pattern our worship and lives after the church of the New Testament. Ours is part of a movement to restore the church that Jesus established through the Apostles to that pattern as laid out in God's Holy Word.
In our effort to do this, we may reject some things others do or names they use, but we do so to draw closer to the earlier Christian Church. We do this, not to distance ourselves from others but to draw closer in the worship of God. We feel that the closer we all get to God and his pattern of obedience, we will all be closer as brothers in Christ.
We will cling to facts that have "no book but the Bible and no Creed but Christ." Our feeling is that any creed that says more than God's Word says too much and any creed leaving out any part of God's Word has to little. We encourage open study of God's Word, not the ideas of men, in our classes and services.
Our belief is that we should teach and practice the following principles: "In essentials unity, in non-essentials liberty and in all things love." In doing this, we strive to speak where the Bible speaks and allowing for individual opinions where the bible is silent, we will then be silent. That which God commanded should be obeyed, that which he prohibited should be preached against, and all other issues studied, we will allow for freedom of personal opinion based on the principles taught in the bible.
Our stance on salvation is based on faith and obedience. We are saved by faith and because of that faith we will put it to the submission of obedience. We ask that you make that great confession of faith that Jesus is the Christ and the Son of the Living God. We then ask that you be obedient in repentance for the changing of your life. We then ask that you follow our Savior in the ordinance of Baptism and in the word unto Paul in Acts 26:20 that says "what are you waiting for, get up and be baptized for the remission of your sins calling on the name of the Lord." We then proclaim Jesus unto our death through our obedience, not wavering to the left or the right.
We will be glad to sit down with you, just as Aquila and Priscilla did with Apollos, and teach you the more excellent Way. Please contact an Elder or the Pastor and make an appointment to discuss any questions you may have. We will conduct all discussions with love and understanding. We welcome you to visit us any and all times published. Our School sessions are open to discussion and you are welcome to participate. Thank you and May God Bless you.
Earl Knopf
Senior Minister South Venice Christian Church.
941-376-1797 cell